George Martin – "In My Life"
Sir George Martin, the legendary record producer who engineered the rise of The Beatles, talks about his hearing loss to Dawn Dimond.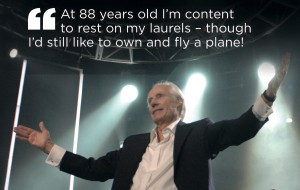 "I couldn't hear the high frequencies – it was a moment of truth"
It's a cruel irony that rock music's most famous record producer attributes his hearing loss to over-exposure to the very music he helped shape into the popular art form it is today.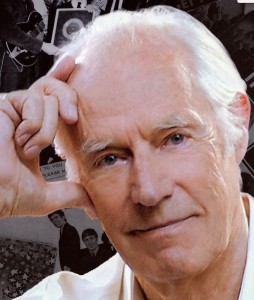 Often dubbed 'the fifth Beatle' because of his great influence during the band's 1960s peak, Sir George also worked with dozens of other top artists, including Cilla Black, Shirley Bassey, The Who and Celine Dion. But, for most of us, a producer's job is probably still something of a mystery. Sir George himself has, in the past, described what it means to him as: "Making sure recordings were artistically exceptional and commercially appealing – basically, maximising the qualities of artists and songs."
With the most Number One singles of any producer to his credit, and a raft of awards including Ivor Novellos, Grammys and a knighthood from the Queen, it's safe to say he more than fulfilled his job description. His output may be less these days, but he's still working, although his interest now lies chiefly in classical music and artists.
"I do still write music but I don't perform," he says. "I think I'm allowed a little rest – I am nearly 88 years old after all! I'm now very content to rest on my laurels…although I would still like to own and fly a plane!"
From the Goons to pop legend
Sir George is a somewhat unlikely pop music figure. When I first interviewed him, 12 years ago, I was struck by his stately, measured presence and his calm, diffident manner. How did he go from formal music training at London's Guildhall School to recording classical ensembles, jazz combos and comedians, (including the Goons), to producing the most enduring pop band of all time?
"Brian [Epstein, The Beatles' manager] had been just about everywhere trying to flog this group.
"I listened to this crummy demo tape, and didn't think much of it, but said I'd give them a couple of hours at the Abbey Road studios, if he wanted to bring them down from Liverpool. He did, and I met them, and they had so much charisma."
The rest, of course, is music history. He signed The Beatles to a contract in 1962 and was sole producer for all their subsequent recordings, (apart from the album Let It Be), and even played on a number of songs, including In My Life.
But he's reluctant to single out even this most-famous association as a career favourite.
"Every one of my artists has been a special person, and I have enjoyed working with so many that it would be invidious to pick one out. But, it is true to say that I couldn't work with someone I didn't like," he admits.
"I can honestly say that all the production work that I've done in various fields is equally close to my heart. I've been very lucky in being able to work in so many different musical genres, with so many talented people. Variety is the spice of life!" But his hard work ethic eventually took its toll – by the late 1970s, Sir George was struggling with hearing loss.
"In the 60s, nobody warned us that listening to loud music for too long would cause damage. I was in the studio for 14 hours at a stretch, and never let my ears repair. There's no question that listening to loud music was a major contribution to my hearing loss."
I try and tell young people that it's not just loud music that damages our ears, but the duration that's the deadly weapon.
In fact, he first noticed the deterioration in his hearing when at work in the music studio. "The engineer was running a series of tests to check tone quality at the start of a session," he recalls.
"I could see the needles moving, but couldn't hear the high frequency he was playing. At first, I thought the speakers must be switched off – but no. That was a real moment of truth and I was pretty upset about it."
Protect your hearing
His hearing threshold continued to go down over the years – he now wears two hearing aids and lipreads.
"The hearing aids and, of course, modern communication with email and so on makes things easier, but they don't dominate my life," he says.
Whilst sanguine about his own experience, Sir George wants younger generations to be aware of the importance of protecting their hearing.
"I try and tell young people that it's not just loud music that damages our ears, but the duration that's the deadly weapon. The human ear is an incredible organ that can withstand the noise of a jet engine taking off at close range. But it is continual noise, often at a lower level, over a few hours, that's the damaging factor.
"Young people need to understand that – they need to give their ears a rest from time to time, and not stay too long in range of loud sounds."
Original article by Dawn Dimond, AOHL magazine, Spring 2014
reprint under NLA licence AL 00055357