FELLOWSHIP of the Institute ('FIPS') can be awarded at the discretion of the Executive Committee following nominations from members (including existing Fellows).
To qualify for consideration for Fellowship of the Institute, a person must be:
"Operationally outstanding in their area and/or have performed a long, honourable and highly regarded service to the IPS and/or to Professional Sound"
We pay tribute to our deceased Fellows.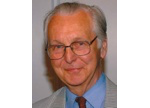 Ron was the original editor of the Institute's journal Line Up After four years with Plessey on loudspeaker development, Ron started at Philips Records (Marble Arch) as technical assistant in 1958. Four years later he became Head of the Studio Technical Department – seeing the studio through the '60s with two major refits and many equipment…
More...