"It's Sunday night, it's live, and it's …"
Rob Ashard MIBS tells us about how he produces the sound for ITV's Dancing on Ice.
When I hear the words in the headline above I know we're just past the opening titles and about an hour and a half of live telly is coming our way. Dancing On Ice is now in its fourth series, first hitting the screen in January 2006, and the show has gone from strength to strength in the ratings – ten million viewers and a 40% share! From the off it has always been a very slick and polished production, and presenters Phillip Schofield and Holly Willoughby are great fun. They couldn't be easier to work with and actually typify the mood of the show and the way it's run. For a show as big as this has become, it really is a very happy, relaxed ship and all credit to Director Paul Kirrage and the entire production team under Exec Producer Katie Rawlcliffe for that. The 11 cameras, headed up by Paul Freeman, are plugged up to O21's Unit 8 and vision mixed by Ian Rowan under Paul's direction. Audio feeds obviously come to the scanner too, and that's where you'll find Gram Op Cliff Hughes and myself, under the watchful eye of O21's Head of Sound, John "Clemmy" Clements. We'll come to our bit in a moment, but let's start out where the action on the ice is.
Miking the Rink
The rink is on the 1465 square metre George Lucas Stage 2 at Elstree Film Studios. The audience of around 500 is arranged around the rink but is only a maximum of seven deep (and often less), and as I was concerned about getting a good audience sound I've gone for a lot of mics. However, not all of the mics can be slung because parts of the set are over the seating, and some mics are closer than I'd like as they're attached to the set on magic arms. To compensate, two of the 17 audience mics are much higher to diffuse the sound a bit; something many supervisors do as a matter of course, but I don't normally.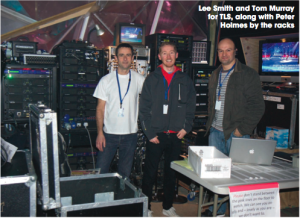 So which microphones do we use? Behringer B5's and C2's, plus one Sennheiser MKH416 that's very high due to the Technocrane. Clemmy ended up with more than he bargained for when he ordered the C2's. At around £40 he assumed that you only got one for that. You actually get two in a case, with windgags and a stereo bar! The other mics on the floor are two more MKH416s in the corners of the rink for skating effects, along with an MKH816 on Paul Freeman's camera. Sadly, the level of music on the PA, and indeed the audience, precludes their use on the show (believe me, I've tried!), but if a skater falls during rehearsals and the music is stopped, the situation is covered by cameras and sound as this often becomes part of "their story" and is featured in the VT package before their performance. Radio-mic wise, Dancing On Ice is pretty huge in numbers at least – at worst we had 11 couples on one show, which obviously whittles down as the weeks go by. However the bulk of them only get used for a few seconds as the skaters get saved from eviction in the live results show, although it's a few seconds that you wouldn't do without as they're in big close up and often screaming in delight. For safety, though, the skaters don't wear radio- mic packs during their performances in case they fall (we wouldn't want to break the transmitters!) so the post- performance interview with Phillip is done on a Sennheiser SKM5200 radio hand mic. The contestant radio-mics are all Trantec 6000 TXs with DPA 4060 mics, and the receiver outputs feed Klark Teknik 1248 splitters and then come to me in the truck via the Calrec Hydra system. This can deliver a total of 96 sends or returns in any combination over an Ethernet cable.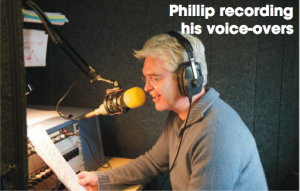 As the show is live (and I'm very old fashioned) the presenters' mics and those of skating legends, Jayne Torville and Christopher Dean come to me via a good old analogue multiway. For backup, Philip and Holly wear a main and a spare each, along with Sennheiser IEM packs for their individually addressable talkback channels. Their mics are Sennheiser 5012 packs with DPA 4060 heads which I use as I find their tighter pickup very good in tricky PA situations. The down side is that the wearer can go quite off-mic on some head-turns. We use cabled DPAs for the five judges, with AKG C747s on the desk as back-up. Finally we have a good old lip mic, plus a spare, for commentator Tony Gubber who picks up live after each skating performance and talks over the EVS slo-mo replays and relays the judges' scores.
The PA Challenge
The radio-mics and PA are supplied by Plus 4 Audio, a company who I hold in high regard for both their sympathy to what we in TV audio are trying to achieve, along with the quality of equipment they use, and I'm very happy to have Mark Ballard at the controls of their Yamaha PM1D console.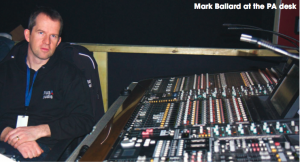 He has his own feeds of all the mics along with post-fade feeds from my desk of grams performance music and grams stings, VT inserts, and commentator. It's an L-Acoustic PA system, with dV-DOSC line arrays slung from the grid at around nine metres up – not our decision, but we have to make it work. This is a tricky one PA-wise as it's a huge space, with a vast, hard, ice floor and acoustics that you would expect as a result – with speakers nine metres up and the hosts are wearing personals! To make a good atmosphere for the audience the music is loud too. I suggested hand mics from the outset, but production preferred personals with the exception of the interviews. Despite all this we've pulled it off, and achieve a good TV and PA mix. Out of a break, as the audience are encouraged to go nuts, I suspect they can't hear Phillip's "Welcome back" but in fairness I don't think Phillip can hear himself either! However, when he's chatting to Jayne and Chris, along with the contestants, and Holly with the judges, the audience obviously can hear as they react very well to it. Here's a nice little story: to notch out some lively frequencies, Mark uses a Behringer FBQ2496. Whilst setting up the system, Mark pushes the system into howls and the 2496 grabs them with super- tight notches. However, he kept finding that on powering up, it had forgotten all the gains for the notches that it had set, but it would remember any manually stored settings. Via distributor, Studiospares, this information was fed back (if you'll pardon the pun) to Behringer, and a firmware upgrade was subsequently made available, which all owners can now benefit from. Nice when that happens. Backing up the dV-DOSC PA system is more L-Acoustic gear in the shape of SB 118 subs, and the skaters hear their music from 112 XT's slung from the lighting truss above the ice. Cross-foldback from Phillip's position (the brilliantly-named 'Kiss and Cry'), to Holly and the Judges is done with the smaller 108s. Amps for all of the above are Lab.gruppen LA 48As. The radio-mic receivers, splitters, amps, sweets, cakes and biscuits are all located in the corner of the sound stage, and that's where you mostly find the crew headed up by Peter Holmes…. but it's cold out there by the ice! Let's get back into the truck.
Scanner Sound
O21's HD-capable Unit 8 is a huge, very well-equipped double-expanding trailer with detachable tractor unit. The sound area is at the back and is a good size, being the full width of the trailer plus the right- side expansion, and accommodates Cliff's grams area comfortably. The back wall is made up of rack-mounted equipment, much of it the Reidel talkback system and patch bays. Facing forwards and spanning almost all of the un-expanded width of the unit is the fabulous Calrec Alpha desk. I make no bones about my love for the current range of Calrec desks – given their flexibility they're still remarkably user- friendly. It is of course fully surround- equipped, but we're working in stereo. Unit 8's desk has 60 faders, and each can handle two signal paths called up by the A and B buttons. I use eight sub-groups as follows: Personals (1), Hands (2), Commentator (3), EVS playback (4), Audience post-compressor (5) and pre-compressor (6), Grams Music (7) and Grams Stings and voice-overs (8). The Alpha's excellent on-board dynamics are used everywhere too, from the various chat group compressors to the overall programme limiter – but with one interesting exception.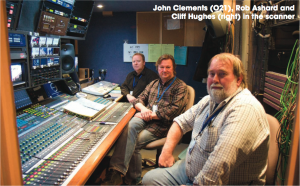 This started out as an experiment and worked better than I could ever have imagined! A while ago I bought a TV 8182 Optimod (which is pretty much the same as an 8100FM Optimod but without the stereo encoder) from an on-line auction of redundant TVS Southampton equipment. If you've seen one of these brown 4U boxes you'll know that they have a lockable flap, behind which are all the controls. Imagine my surprise upon opening the flap to be confronted with a small camera-tape label that read, "Do not adjust without consulting Robert Edwards." Needless to say I was on the phone straight away to get permission to fiddle! Anyway, this bit of dual-band- compressor magic is set up to be fairly gentle and is inserted into the Grams Performance Music group (7) to massage the gain with its AGC pulling up the quiet bits and holding down the loud bits, while never peaking over 5s on the main mix so that I'm left with somewhere to go with the audience. The music feed to the PA off the Grams channel is not touched by the Optimod, which means that my music is denser than that going to PA and this seems to help mask the PA spill when I go for the audience who keenly applaud every trick performed by our skating stars. It's a particularly good solution with quiet beginnings, and is far better than manually chasing a fader. The only other thing inserted into a group, and this time it's digital, is my own trusty Cedar DNS 1000. With personals and a row of moving lights with their fan noise, this helps enormously – as it always does. A happy coincidence here is that is also cleans up a bit of PA spill too.
Putting It All Together
Saturday's rehearsals of the ice-dances are left in the capable hands of Gram Op, Cliff as it's all music and play-ons. Those play-ons are music stings with a voice over saying who's skating to which piece of music, which are recorded on Fridays in a flat- packable voice-over booth owned by The London Studios. The London Studios also look after all the show's video editing using Avid Symphony's and are based about 30 metres from the truck in a collection of Portakabins. We use my own EV RE20 mic on an anglepoise arm for the voice-overs as I find its rejection very good for less than ideal situations like this. The signal runs through a channel of my Joe Meek Twin-Q mic amp/compressor/EQ, into a DA and off to a few of the suites. Originally these voice- overs were mixed in Avid, but I had Steinberg Nuendo on my laptop (a bit like Protools if you haven't come across it, but you're not locked in to any particular hardware) and tried doing it myself with exported files. As I was able to compress, equalise, and add reverb, the result was far better (no disrespect to the Avid guys!).

So now, having made a rod for my own back, I spend Saturday morning mixing these audio clips. They may be short but with up to 11 couples skating, and any of them potentially in the skate-off too requiring yet another different v/o and another bit of music, there's quite a lot to do. Having said that, by using the previous week's settings and dragging in this week's voice-overs it's really only a case of grabbing the fader with the mouse to change the automation a little. My rig has been refined a bit this year. I found a small space the other side of the v/o booth and Clemmy found me a pair of Genelecs. I'm now using a Tascam FW 1884 firewire audio interface with motorised faders and transport buttons that control Nuendo. This can be configured to have a monitor out with a dedicated volume knob for the speakers, whilst another pair of its eight outputs can be the 'desk' main out which I feed to a pair of PPMs. This natty piece of kit has made the job even quicker. After mixing internally to a file, I dump it to a memory stick and Cliff transfers the mixes into the Spot-On playout system. It's quite a slick setup, but it has to be. There is one long 90 second cue where all the skaters come out, but the order is sometimes changed at the last minute during rehearsals. So I have to remix it and get it back in the truck in around five minutes! By the way, the music sequences come off a 360 Systems Short Cut, arguably more stable than a computer based system, although it has to be said that the Spot On has been rock-solid too. A lot of the show is quite straightforward to mix. However, the chat sequences between Phillip, Jayne, Chris and the contestants, followed by Holly with the judges, all have to be mixed very hard – both in the truck and on the PA – and the levels of spill have to be kept even. The judges also have to be kept as high as I dare, as sometimes they interject and it can become a bit of a free-for-all. It makes for good telly, but can be a bit of a handful. The audiences are brilliant, particularly if a contestant has had trouble with a routine, or hurt themselves in the week rehearsing it. If they pull it off on the night everyone goes berserk, audience and hosts alike, and the atmosphere is absolutely fantastic in there. Hopefully, that fun and energy comes across at home. My thanks should go to Cliff and Clemmy in the truck, and Peter Holmes, Lee Smith, Tom Murray and Mark Borrow on the floor.