Hugh Barker, Fellow of IPS, passed away peacefully in hospital in November 2021 with his wife Rita and one of their daughters by his side.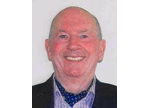 Hugh Barker radiated positivity. His smile seemed to precede him into the room. His presence brought enormous confidence to producers and artists alike. It was not misplaced.
Sound crews felt the same desire to produce the best and would always go the extra mile for him, his leadership style accepting nothing less. Hugh came to BBC Television via the Merchant Navy, the RAF and BBC Radio, arriving at Lime Grove studios as a sound supervisor in 1954. Sound supervisors were first freely allocated, then integrated into the crew system, then once again separated and allocated directly to programmes. He was the Sound supervisor on a broad range of content in the television output as were all supervisors, always bringing the same commitment to the highest standards whatever he was doing, always with a light touch.
Throughout this time, Hugh was steadily building his expertise primarily in the light entertainment field, and his flair for the work and consistently high standards quickly became apparent. As specialisation increased, Hugh became increasingly in demand to take on the high profile, often difficult shows featuring musical stars of the day, working with television's big-name producers such as Stewart Morris and Yvonne Littlewood.
World class artistes and orchestras including Mantovani, Vera Lynn, Shirley Bassey, Tom Jones, Engelbert Humperdinck, Petula Clark, Cilla Black, Nana Mouskouri, Leo Sayer, Lulu, Harry Secombe, Young Generation and many more received his skilful care and attention. From the USA, The Carpenters, Nilsson, Jack Jones, Buddy Rich, Bobbie Gentry, Louis Armstrong, Johnny Mathis, Nelson Riddle and Henry Mancini joined the list.
By now a senior figure in television sound, Hugh made several trips abroad on behalf of the BBC for demonstration and training.
As time passed, light entertainment began to move away from solo artistes and orchestras, so music sessions for comedy and drama programmes in Television Music Studio and many of the leading commercial studios filled much of his schedule.
Beyond the BBC, Hugh was a family man. He leaves a wife Rita, four children, grandchildren and great-grandchildren, and a large hole in the lives of his many friends.
Larry Goodson