Hugh Robjohns MIPS Awarded Honorary Doctor of Technology
In a ceremony on Thursday 25 July – the University of the West of England (UWE Bristol) conferred IPS member Hugh Robjohns, as an Honorary Doctor of Technology in recognition of his service to the public understanding of science and technology.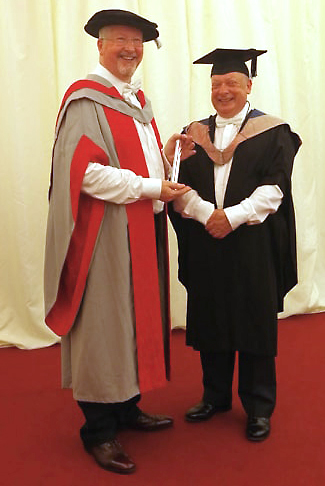 Vice-Chancellor of UWE Bristol, Professor Steve West said, "We are extremely proud to confer Honorary Degrees on five exceptional individuals in our summer graduation ceremonies this year. Every single one of them has demonstrated true leadership, skill, and visionary thinking to make an incredible and lasting impact in their areas of work, and I know that they will inspire and encourage our graduates as they take their first steps into their chosen careers."
Hugh Robjohns said, "It is an enormous honour and a very great privilege to be recognised in this way, and I very much look forward to closer collaboration with the University and its students studying on Music Technology and Broadcast courses in the future. …And a childhood dream has come true – to be Doctor Hugh!
Picture: Hugh Robjohns (left) with his Orator Martyn Harries, Senior Lecturer, Audio and Music Technology.