Judi Dench berates 'lazy young actors who ignore their artistic heritage'
Blue plaque event at Gielgud home prompts dismay over 'actor apathy', mumbled speech and dumbed-down Shakespeare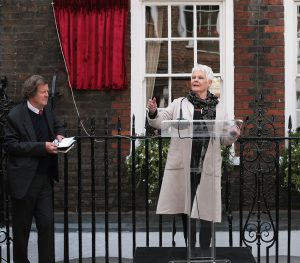 Dame Judi Dench has accused younger actors of apathy and laziness and caring little for either their artistic heritage or whether they can even be heard speaking.
She spoke at the unveiling of a blue plaque at the former Westminster home of Sir John Gielgud. It was attended by other speakers including the playwright Sir David Hare, with Sir Ian McKellen also among those in attendance.
Dench said she feared that though Gielgud was regarded as one of the finest of British actors, who had worked solidly on stage and screen from 1923 to his death, aged 96, in 2000, there might be actors who knew little about him.
"What is so shocking now is that young actors don't want to find out about the legacy that we left," she said. "They don't want to know about Garrick and Irving and Peggy Ashcroft and Edith Evans. That seems to me a terrible shame. Although the fashion now may not be to speak the way that John and Peggy and Ralph and Sir Laurence spoke, nevertheless, if you listen to Sir John, you will always get the meaning of what Shakespeare means, you always get the meanings."
She suggested that younger actors were not curious. "It is not laziness, it is just non-curiosity. I think it is terribly important to know that whole history of theatre we have, why you're in it, what people did before, the lives of actors."
Like many theatregoers and television watchers, Dench had experienced performances where she could not hear the actors' words properly, whether on stage or on BBC One, as, for example, in the drama Jamaica Inn. "I know [the drama was based in] Cornwall, but it was ridiculous," she said, referring to the actors' speech.
That was laziness she said. "Often I want to shout out, 'Will you say that again because I can't hear!' It is an apathy, laziness. If you're not going to be heard, then stay at home and do it in your living room. It doesn't require shouting, it requires learning about it and learning where your voice comes from, where your diaphragm is and how to use it."
Dench was speaking before the unveiling of the plaque outside 16 Cowley Street, a brown-brick Georgian townhouse that was Gielgud's home from May 1945 to February 1976.
The period spanned some of the most important moments of the actor's life, including his knighthood, awarded in 1953, the year he also suffered the misery of being arrested for cottaging in a Chelsea public lavatory. He was fined for the infraction and assumed his career was over.
But Gielgud had acquired many friends and supporters, and his case became one of a number providing an impetus for landmark legislation – the 1967 Sexual Offences Act – that decriminalised private homosexual acts between men over 21 in England and Wales.
Dench, who said she was "overwhelmed" to be pulling the ribbon on the English Heritage plaque, recalled how Gielgud had helped her as a young actor when they appeared together in the play The Cherry Orchard. "The director, Michel Saint-Denis, gave me a very hard time and almost destroyed my confidence. But at one rehearsal, as we exited at the end of act one, Sir John said: 'Oh, if you'd been doing that for me in one of my productions, I'd have been delighted.' I was devoted to him for evermore."
She said anyone wanting to know how to "speak Shakespeare" just needed to listen to Gielgud, after whom the Globe theatre in the West End was named in 1994. Dench scorned those who advocated cutting out the writer's less penetrable passages. "I think it is very patronising to change Shakespeare because you think people might not understand it," she said. It was an actor's business to make it understandable.
The blue plaque scheme, taken on by English Heritage in 1986, has been running since 1866, and commemorates notable people associated with London buildings.
Original article by Mark Brown, The Guardian, 27 April 2017.
Reprint under NLA licence AL 00055357
Photographs: Martin Godwin for the Guardian