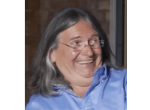 Peter Thomas was born in Ramsgate Kent in 1955. Fascinated as a child by his grandfather's wind up gramophone, he began collecting 78rpm records, the start of his life-long passion in sound and his love of music.
By the early 1970's he was an avid hifi enthusiast, constructing his own speakers and amplifiers and going on to study Electronics at Canterbury. This led to his joining BBC Radio Engineeringin London, servicing all items of broadcast equipment, including monitor speakers. His work also included projects such as designing a unique turntable to optimise 78rpm disc transfer quality, and a similar device to achieve the same for cylinders.
At this time he was also working as 'loudspeaker representative' for BBC Radio, involving him in the revision of the LS3/5a speaker, and focussing his ability to evaluate speaker performance through controlled listening tests.
Moving on now into the more specialised environment of BBC Music Studios, his work became centered on the demand for monitoring speakers which could achieve the required accuracy at higher volumes, working with commercial speaker companies in an attempt to achieve this goal. At the same time Peter and audiophile colleague Adrian Loader were privately auditioning all the domestic so-called 'reference' hi-fi speakers with a view to replacing their own home set ups. They discovered nothing that they felt was a significant improvement over the designs of 20 years earlier, so with commendable confidence they chose to design a speaker themselves. After several years work in their own time a prototype emerged (the fifth, or 'BB5' as it was to be called) which, on demonstration, was chosen by BBC Radio as the preferred monitoring for their new music complex at Maida Vale Studios.
Peter's and Adrian's choice of design was not conventional.  The majority of speakers utilised the relatively simple principles of ported or sealed cabinets, but the partners looked elsewhere. After extensive experiments, they found that the transmission line system for bass loading could be refined to yield a significant improvment over conventional principles. At this point was born the "Advanced Transmission Line"……
Resigning from BBC Radio in 1991, Peter formed, with Adrian Loader, 'PMC' (the Professional Monitor Company) and began commercial production of the BB5 speaker system to fulfil increasing demand from the BBC and other  leading recording studios, and from artists including Stevie Wonder, Elton John, Robbie Williams, Prince – to name but a few. Now, over twenty five years on, the BB5 remains the world's reference for mastering and for the bulk of music production.
Peter was not resting though!
Initially for supply to broadcasters and studios, he developed a range of designs which were acclaimed for their performance both in the studio and later in the home, including the classic LB1 – in production for over 15 years; the DB1 – the smallest transmission line speaker ever made; and, at the other end of the scale, the QB1-XBD –  one of the most powerful studio monitors available, able to offer more than 132dB SPL whilst retaining PMC's renowned accuracy and quality.
Today PMC sells into over 50 countries around the world, and has systems in virtually all the world's legendary recording studios.
Peter's philosophy is that there is no difference between a speaker used to monitor in the studio or to playback in the home. His design objective is simple: accuracy. PMC is now a world-leading manufacturer of professional monitor and audiophile speaker systems, with  Peter's 'Advanced Transmission Line' (ATL™) technology incorporated across the whole product range. Peter holds several patents and his designs have received an array of accolades worldwide with the UK's leading audio magazine awarding PMC with the best loudspeaker of the year for an unprecedented 3 years running.  But probably the most prized award is an Emmy, which also recognises the work of his late business partner, Adrian Loader.
Peter believes that some of Britain's greatest achievements have been in music creation and in music reproduction and examples of this must be preserved for future generations. To this end, Peter is amassing at PMC's Holme Court HQ one of the largest collections of vintage audio equipment including – of course – historic loudspeakers!