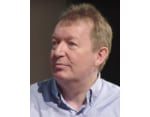 Robert is respected as the UK's leading television sound supervisor and sound both for his work in the UK and around the world. He has been involved in television sound production for 45 years, rising from a trainee boom operator at ITV in Southampton in 1974, to his premier place mixing live worldwide events for a worldwide audience.
Based in Kent, he has been an ambassador for UK excellence in the field of audio mixing across the world. He mixed the World Television Sound Feed for the Opening and Closing Ceremonies at the Olympics in Brazil to a live audience of 2 billion viewers, which gained a BAFTA nomination, and was again mixing for the Winter Olympic Ceremonies for the world's television viewers in South Korea in 2018. Robert has maintained an exemplary level of professional commitment throughout his long career, reflected in six nominations and two BAFTA Winner Awards, for "Symphony for the Spire" in 1992, and in 2015 for his work as part of the X Factor Production team. At the other end of the spectrum, for 10 years he was responsible for mixing Harry Hill's Tv Burp, and continues in comedy with Keith Lemon's Celebrity Juice and Michael McIntyre's Big Show.
He has an unrivalled range of ability across the entire spectrum of television sound at the highest level bringing his expertise in every genre of programming, to all the main UK broadcasters including the BBC, ITV and Sky. Robert's ground-breaking techniques brought cinema-style surround mixing to Sky's football coverage and into the Football World Cup for HBS, starting in Korea in 2002. He has mixed the world sound for the FA Cup Finals at Wembley, and Champion's League Football Finals in Athens, Moscow, London and Istanbul, where he pioneered the first ever 5.1 surround-sound live broadcast mix for the event. For more than a decade he has also been the television sound mixer or sound director for every UK live primetime episode of Britain's Got Talent for ITV, and for all the live X Factor programmes, establishing the sound design for these productions that was copied and emulated around the world. Not just working in Football and Networked Entertainment, his versatile talent spilled-over into film work where, in 1995, he was solely responsible for the recording and sound mixing of the Oscar-winning feature documentary "Anne Frank Remembered". More recently, he was chosen to mix the Eurovision Song Contest in Portugal on behalf of the State Broadcaster RTP and the European Broadcasting Union. His live sound-mix of the event was heard by a worldwide radio and television audience estimated to be around 200 million viewers. His passion for his craft was reflected in an RTS Craft Skills Masterclass given in 2014, in his membership of the original Skillset Training Standards Committee and in his support for the Institute of Professional Sound. Not many people know that he's also the creator of the uniquely recognisable buzz-in noise on the quiz programme Catchphrase.