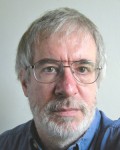 TV Sound Supervisor (Freelance)
Colin has been freelance since 1975, after five years working as staff recordist and dubbing mixer at Strathclyde University Film Unit, a joint operation with Glasgow University TV Service. After working as a freelance recordist and mixer in the Glasgow area, he took his first overseas posting with Oman TV in Salalah. His work involved training local technicians, in addition to recording and mixing local programming for the first ever TV service in that part of the world, to an audience who had never seen TV before.
He then moved to the USA, and worked as a freelance production sound mixer and dubbing mixer, based in Boston and travelling throughout the USA and beyond. Projects included documentaries, films, commercials, corporate, and broadcast work as well as occasional lecturing and training. Clients included US Networks, international broadcasters, independent film makers, and local and national production companies.
He returned to Scotland in 1991, and continues to work in film and broadcast sound. Recent projects have included documentaries, current affairs, corporate work, and live broadcast. He has also been involved in developing and delivering training, for both the broadcast industry and the FE sector. He occasionally has the pleasure of working with former trainees, and looks forward to eventually being overtaken by them.