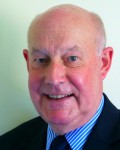 SECRETARIAT
Consultant
On leaving college Malcolm Johnson worked on speech research with the UK GCHQ before joining BBC Radio Engineering in External Services at Bush House in 1961. He later moved to BBC Television Studios working in the Technical Operations Sound Department, eventually becoming a senior sound supervisor handling programmes of every type.
By the mid 1980's he was Assistant Head of TV Sound at the BBC Television Centre in west London and for the last 8 years of his 35 year BBC career Malcolm was Head of Sound at BBC TV Outside Broadcasts.
He then became a consultant to Sennheiser (UK) Ltd for three years before taking up his current role running the Secretariat for the Institute of Professional Sound in 1999.