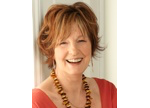 Vivienne Dyer began working at Rycote in 1985 when the company was run by its founder, John Gozzard and a mere handful of employees. Vivienne worked in most roles until 1995, when she bought the company and became Managing Director. She oversaw the expansion of the company in terms of both employees and products. The first of these – the Modular Suspension System – gave her a joint Academy Technical Award with the designer, Chris Woolf. Subsequently she guided the Modular Windshield, the Supershield, the InVision series of mounts to become successful products, amongst many others.
Her ability to run an internationally renowned company was aided by her being the ultimate people-person – the entire industry knew her and held her in high regard, not only for the quality of the products but also for the ethical stance of the company and for her marketing brilliance. She instigated the Rycote Open Days at which the leading proponents of the microphone industry and the leading users met on an equal footing, events which are talked about many years later.
Vivienne retired from Rycote in 2014.