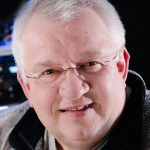 Sound Recordist (Freelance)
Simon recorded his first sounds at age 9, on a reel to reel tape recorder he found under his parents piano. In his teens he volunteered for a Hospital Radio Station, and the seeds of his career were sown. He recorded his first music LP at the age of 15, and started working in sound professionally 4 years later. His career has taken him through Corporate, Commercial, and Training film making, Pop Promos and long form music docos.
Around twenty years ago Simon started recording for TV drama and feature films, and also sound supervised a number of reality and actuality TV shows. He has recorded the last nine series of New Tricks, for the BBC (around 80 episodes), and most of the most recent series of Silent Witness, also for the BBC. Simon became Chairman of the IPS in March 2009.