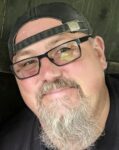 Sound Recordist (Freelance)
An audio veteran with nearly 35 years of experience, dedicated to invisibility in his work. Inspired by a childhood passion for film, Mark start in the domestic hi-fi industry at the age of 17, critical listening to equipment and designing systems and rooms for the public & professionals. Then in 2000 found his true calling after THX training at Skywalker Ranch. Mark's journey includes collaborations with industry giants like Lucasfilm, Paramount, and Iron Maiden to name a few.
His former role as an AV designer and experience of 12 years as the technical product manager & trainer for Onkyo & Pioneer electronics, producing content for corporate channels prepared him well for a recent venture as a freelance sound recordist and editor in short film, Doc & corporate .
From designing playback systems for Dolby Atmos to capturing dialogue and sound effects for Film & TV, Mark's skills are versatile.
Above all, he prioritises transparency, ensuring seamless audio from capture & edit to playback. Mark's genuine love for sound fuels his enthusiasm in bringing visions to life. Always learning & always improving.