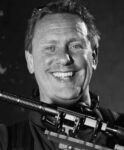 Sound Recordist (Freelance)

Pete graduated from Ravensbourne in 1990 and was lucky enough to walk straight into a staff role at Central TV in Birmingham as a sound operator. This gave him a wide and varied introduction to the industry, training on Fisher Boom for drama as well as doing PSC/ENG location sound recording for documentaries and news. With the demise of Central TV around 1992, Pete went freelance, bought an SQN 4S and has never looked back.
Over the years Pete has gained far too much kit and extensive experience of many programme genres: live, recorded, in studio and on location all over the world. If it wasn't fun and challenging he wouldn't still be doing it.
He believes strongly that the industry is in need of (much) younger blood and understands how hard it is to get going. Pete aims to ensure that the community in the IPS is just that: a community of like-minded & skilled soundies (from many and varied sectors of the industry) who can learn from each other.