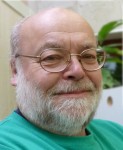 SECRETARY
Consultant (Freelance)
Bob Conduct was born in Evesham and was reared in Birmingham where he attended Saltley School, achieving 11'O' and 5'A' levels, along with a working knowledge of stage lighting and sound. The latter, coupled with an interest in radio, led him to read Electronic Engineering at Sheffield University followed, in 1963, by an appointment to BBC Radio as a 'TO' in London Control Room.
1963 – Completed TO course at Wood Norton but – apart from sitting-in on Beatles and Roy Orbison sessions – suffered a degree of boredom in BH Control Room. So applied for transfer to 'Outside Studios', based at the Playhouse Theatre, Charing Cross – mainly providing engineering support for the live lunchtime pop shows but intermittently working in all of BBC Radio's dozen or so theatres around London and at Maida Vale music studios.
1968 – Became an SM/sound mixer working extensively "at the sharper end of pop" (the Beeb's expression), specialising in sessions for John Peel and Sounds Of The 70s, recording and mixing virtually all the top bands in the business at that time – Beefheart, Bonzos, Caravan, Cliff Richard, Curved Air, Deep Purple, Elton John, Eno, Fleetwood Mac, Family, Fairports, Fleetwood Mac, Free, Gene Pitney, Genesis, Gentle Giant, Hawkwind, Hendrix, Increds, Jethro Tull, Joan Armatrading, Kinks, Lindisfarne, Bob Marley, Marmalade, Nice, Osibisa, Pretty Things, Procol Harum, Rod Stewart, Shadows, Soft Machine, Slade, Steeleye, Supertramp, Thin Lizzy and many many more – including even Rolf Harris, Mrs Mills and The Wombles!!
1977 – Family reasons triggered a very reluctant move from the unsocial hours into 'Programme Operations Management' as a production servicing manager, based in Ariel House, Charlotte Street, servicing the total music requirements of Radios 1 & 2 and working on the technical re-equipping of six of the BBC's London music studios including the installation of Solid State Logic consoles. Joined the development team of the first digital console – the Neve DSP, and also, with a colleague, designed what were intended as the BBC's first direct-to-air broadcast studios for the proposed Broadcasting House reconstruction.
1986 – Emerged blinking from yet another BBC reorganisation, moved office to Maida Vale and additionally took on the allocation of R1 & 2 transmission staff (now over 60 persons). Continued also to work on the ongoing modernisation of the music studios, culminating in design work on the Beeb's justly famed 'Rock Complex' – built on the site of the old Maida Vale Studios 4 & 5.
1990 – Moved office to Broadcasting House and now, with a colleague, servicing the total programme making and transmission requirements of Radios 1 & 2
1994 – and another office move later – became an Accounts Manager in the new Resources Directorate, responsible for Radios 1 & 2 (in London) and Religion (in Manchester). (You couldn't make it up….!!). Didn't like it one bit, so……
1995 – took advantage of yet another BBC reorganisation to take early retirement, becoming a freelance technical consultant in radio and audio.
1995-2000 – Commissioned to design and specify a 5-studio music/drama/broadcast complex for a major independent production company in Central London; had name submitted as potential technical advisor to Paul McCartney's Liverpool Institute of Performing Arts (LIPA); joined the Executive Committee and became secretary of The Institute Of Broadcast Sound; commissioned to specify a "state-of-the-art" demonstration music studio for a major UK recording console manufacturer; had name submitted as potential technical advisor to the redevelopment of EMI Elstree Film Studios; provided technical advice to the International Maritime Organisation and restored many unintelligible recordings for them; designed and specified a radio transmission studio and a multitrack music recording studio for a large college; designed and specified a 5 studio complex for a recording group in Sussex……
2000. Gradually withdrew from the design and specification side of the Broadcast & Recording industries (apart from the Institute of Broadcast Sound).
2001. Accepted several commissions for custom-built furniture, including a new workspace/office for a prominent local TV Director – and (for something different) built a complete pottery studio for a local artist.
2002. Built a second pottery studio. Became involved with organizing seminars for Broadcast sound staff at BBC Training & Development Centre and at The National Film & TV School. Invited to become Radio Advisor to the National Museum of Film, Photography & TV in Bradford.
2003 – present – Really retired to progress a lifelong interest in brewing – and drinking – fine ale, but also remaining on the Exec Committee of what had now evolved into the Institute of Professional Sound.